Reduce Your Overhead Costs
Get Free LEDs With Your Business Direct Install Energy Assessment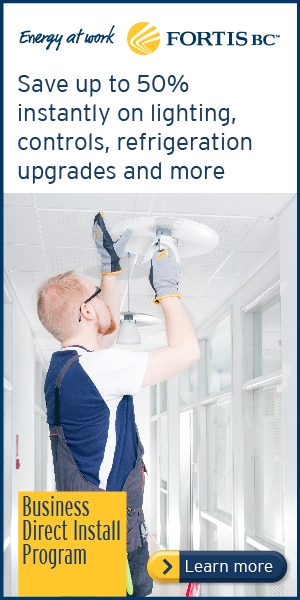 When you use FortisBC's Business Direct Install program, your local pre-qualified contractor will conduct an energy assessment and install up to 20 free energy-efficient LED lamps. It's a hassle-free way to see how you could lower your business operating costs by upgrading to more energy-efficient equipment. The LEDs alone will last up to 25 times longer than incandescent bulbs and can cut your electric lighting costs by up to 80 percent.
We'll replace qualifying halogen and incandescent lamps with their efficient LED counterparts and even provide a Smart Plug Power Strip if you don't already have one.
In Addition, The Business Direct Install Program Offers:
A free no-obligation facility assessment to identify energy-saving opportunities.
Recommendations and estimates of energy savings, project costs and payback periods.
Instant rebates of up to 50 percent off the cost of high-efficiency lighting, controls, refrigeration upgrades and more.
Who Is Eligable?
Small commercial customers with: 
An electricity account through FortisBC, City of Penticton, City of Nelson, City of Grandforks or City of Summerland.
≤ 200 kW peak demand at any one facility
Business Direct Install Example
Let's see how much a small office or store could save by changing their existing interior lighting to energy-efficient LEDs. This business qualifies for 16 free lamps and will use incentives to upgrade 48 more.

These upgrades would save this business over $1,900 a year on lighting electricity costs. Their out-of-pocket costs were $2,134, but thanks to the project's energy savings, the business recouped its costs in just over 13 months and now pays $1,900 less on energy costs every year.
Available Incentives
FortisBC offers instant rebates based on your peak electricity demand and annual consumption for a wide variety of energy-efficient equipment. Incentives, actual savings and payback periods vary depending on the equipment installed, building characteristics, energy use patterns, age of existing equipment, location and other parameters specific to your project.
Eligible Equipment Includes:
LED Lighting
Fluorescent Lighting
Occupancy Sensors
LED Exit Signs
Anti-sweat heater controls For Refrigerator Doors
Programmable Thermostats
Contact Hotwire Electric Today To Learn More About This Program.