Kelowna Cable, Phone and Internet Installation – Hotwire Electric Does it Right!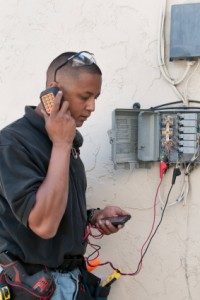 Are you considering having an electrical wire installation sometime soon? There isn't any shortage of companies that offer cable, phone line and internet installations, but companies that offer the highest quality installation at an affordable price? That's when you turn to Hotwire Electric! We have the experience and the ability to get the job done right the first time. In the information age where so much of our social lives as well as business activity depends on being connected the right way, here at Hotwire Electric we are proud to say we are way ahead of the pack. Let's take a closer look at what we offer. If you are looking for electrical installation you have definitely come to the right place!
Kelowna BC Cable, Phone and Internet Installation Wired Right
When it comes to putting in things like your internet, cable and phone the best choice is to bring in a licensed and insured electrician to do the job. Professionals who know just what needs to be done for you to not only get the best service possible without outages do to poor wiring, but also that is installed in a way that is concealed and pleasant visually. Hotwire Electric has both these grounds covered. The extra confidence you have in using insured professionals – who are trained and accomplished electricians, means you can rest easy rather than worry about headaches once the job begins. This can be worth its weight in gold.
Cable, Phone and Internet Installation in Kelowna BC Makes Good Financial Sense
One of the best things about choosing Hotwire Electric to install your phone, cable and internet needs is that on top of getting the best service you could ask for, it's also at an extremely affordable price. Bargain shopping for home improvements is not always the best idea, but in this case you receive the best of both worlds – top notch work at a price that will impress. We are always happy to discuss your needs with you and come up with the most affordable option to get the job done right, Don't forget if you need all three of these areas covered it almost always makes good sense to have them all done at the same time by the same company. Not only does this save you the headache of coordinating different installations for your cable, phone and internet, but will also give you the benefit of a possible reduced price on a package deal from Hotwire Electric!
If you are ready for cable, phone and internet installation make Hotwire Electric your first call today. We're ready to get you up and running with one of our licensed and insured Kelowna electrician who will go above and beyond to provide the highest quality work. If you have any questions or need suggestions or advice about your project we would love to help. Call us today and get a free affordable estimate. It doesn't matter if the job is big or small we will make sure it's done right here at Hotwire Electric!