Cost-Effective and Functional Kelowna Circuit Breakers and Fuses For Your Home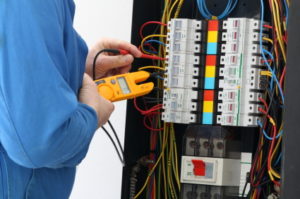 Having circuit breakers and fuses installed in your home is essential if you want to get a functional lightening and electrical system. We understand any of your needs and we are always prepared to offer you our undivided attention and dedication, along with high quality circuit breakers and fuses installation services, so you can get a more comfortable and pleasant life, as well. Hotwire Electric provides Kelowna electrician services, with an extensive experience within this complicated field and professionally trained technicians who will offer you good services for all your needs and expectations. Our expertise allows us to help you get a cost-effective electrical system, so you will be able to prevent any eventual inconveniences that might occur.
Prime Quality For All Our Circuit Breakers and Fuses In Kelowna

We understand very well your concerns and we plan to help you overcome any possible circumstance that is not favorable for your well-being or financial situation. Our skilled and knowledgeable electricians will offer you any kind of services you need, including a complete installation of circuit breakers or fuses and reparation/replacement services in case of an ineffective electrical system. You need premium quality circuit breaker products and we are here to offer you efficient electrical designs and installation, along with our complete support and warranty for all our services. Hotwire Electric is always prepared to offer you the best electrician services – we have been providing benefits to all our clients for years, so they managed to minimise their monthly expenses and get an attractive, yet functional electrical system for their homes. The installation of fuses and break circuits is a must for every house and, if you really want to get a satisfactory fulfilment and solve your problems entirely, then Hotwire Electric is the company you need in this regard. Professionalism and dedication are the exact terms that define us completely and there is no job we cannot accomplish appropriately.
Obtain Satisfactory And Excellent-Working Circuit Breakers and Fuses Kelowna

If you are looking for quality fuses and circuit breaker installation, Hotwire Electric will help you achieve the results you want and make your home a more comfortable place for your entire family. We provide only low prices for all our services and we can fit our customers' needs exactly. If you are not satisfied with your previous circuit breaker system, we are here to assist your concerns and fix them completely, so you can be satisfied with your excellent-working electrical system. We will accomplish any kind of job in the shortest period of time, as we understand how precious your time is and we do not want to waste it uselessly.
Contact Us Right Away and Get Our Kelowna BC Circuit Breakers and Fuses Installation/Replacement Services
Whether you need a fuses and circuit breaker installation or a replacement service, Hotwire Electric will always help you obtain the most effective electrical system for your entire house. Contact us right away and talk to one of our specifically trained individuals – you will receive all the details you need regarding our services, along with the prices we offer and other facilities we include for our clients. With a single call you can ensure your house of a better lightening and a more functional electrical system in a few moments.